World Egg Throwing Championships won by England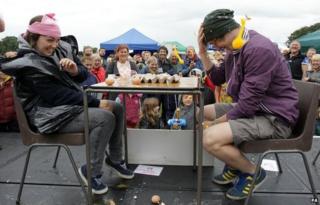 An English team has won the main discipline in the World Egg Throwing Championships for the second year running.
Ginge Harrison and Titch Wells successfully threw an egg 50m and caught it without the shell breaking.
Egg throwing is recognised by the English Sports Council, and this was the ninth year championships have been held in Swaton in Lincolnshire.
Organisers said the sport is taken very seriously by some competitors.
Andy Dunlop, president of the World Egg Throwing Federation, said: "Wells and Harrison were particularly pleased at beating the Irish and Germans, and the Americans.
"People see it as not a real sport, but it is. There are people travelling across the world for these things.
"It pre-dates everything like football and rugby - lesser sports - and cricket even."
Harrison and Wells, from Billingborough Cricket Club in Lincoln, were world champions in the same discipline last year.
The appropriately named Norm Fowler, from Peterborough, won the Russian Egg Roulette competition, beating 64 other competitors by avoiding smashing a raw egg on to his head.
"He managed to select, using his skill and judgement, the right egg each time, which was the hard-boiled egg," said Mr Dunlop.
Other disciplines in the charity event included Egg Target Throwing, which involved throwing eggs at a body builder and getting points for hitting specific areas.
"You get nothing for hitting him in the face, because he's a male model, you get one for the arms and legs, two for the torso and three for the groin," said Mr Dunlop.
"The lady who won got one body shot and two groin shots, and he doesn't wear any protection so you know if you hit him.
"She threw with such viciousness it's untrue."