Sleaford Maltings purchase prompts legal threat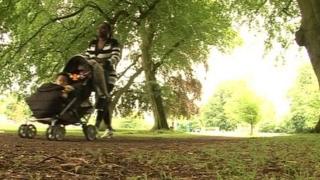 Legal action is being considered in a long-running development row between two Lincolnshire councils.
On Thursday North Kesteven District Council voted to compulsorily purchase part of a Sleaford park.
Boston Road Recreation Ground is key to a redevelopment involving a supermarket, new link road and the derelict Bass Maltings.
The district council said the area was being "held back", but the town council insisted it was the wrong plan.
The Maltings, a 13-acre, Grade II*-listed complex, was built in the early 1900s and has been placed on English Heritage's at risk register.
'People's will'
The site has been the focus of redevelopment plans for more than a decade.
A scheme to convert it into apartments had been due to start in 2011 but was blocked when the town council said it would not sell the recreation ground, citing a loss of public amenities.
Now the district council has decided to buy the land without the town council's agreement.
Town mayor Keith Dolby said: "We have to take advice from our legal people.
"It may well be (a long way from being resolved), but us opposing the sale of the recreation ground is the will of the people of Sleaford. We are not opposed to change; we want progress. But this plan is not progress."
The Conservative leader of the district council, Marion Brighton, said: "Let them challenge, let them challenge. We have had enough. You can't hold a town back simply because some people don't agree with you."