Lincolnshire boy born with nameless genetic disorder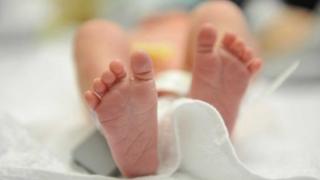 A 14-month-old boy from Lincolnshire has been diagnosed with a chromosome disorder that is so rare it does not have a name.
Reuben Moore, from Boston, was born with a duplication of part of one of his chromosomes.
His mother, Melanie Moore, has now spoken out in a bid to try and help raise awareness of his condition and the research work being carried out.
She said the worst part was not knowing what will happen to him in the future.
Ms Moore said Reuben, who was resuscitated shortly after birth, had small ears, mouth and jaw, which doctors thought might be genetic.
'Dealing with the unknown'
She said he was taken to an intensive care unit in Leicester for specialised treatment, where tests showed he had a duplicate chromosome.
"His development is delayed - he had a lot of problems with breathing when he was born - he has poor muscle tone and he might have learning disabilities when he is older," she said.
"We are literally dealing with the unknown - we just don't know how long he might live for."
She added: "I try not to think about it because it is upsetting - I just make sure he can be as happy as can be and gets all the help he needs."
Lauren Roberts, from the Genetic Alliance, which helps people affected by genetic conditions, said many families feel isolated, particularly when their child is one of only a few in the world with a particular disorder.
She said: "One of the biggest issues for parents is having no idea whether your child is going to walk and talk and not knowing what their life expectancy is going to be."
She added: "There is also an issue if you don't know the cause of your child's condition, you can't tell if other children might be affected."