Lincolnshire farmer cleared of 'running down' suspected thief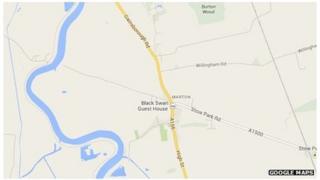 A Lincolnshire farmer has been found not guilty of deliberately running down a suspected metal thief on his farm.
Dennis Tindale, 78, of Marton near Gainsborough, admitted his 4x4 struck Michael Lewis as he chased him across one of his fields.
Mr Lewis, 67, suffered a broken neck in the collision, but Mr Tindale said he did not intend to hit him.
He was cleared of causing grievous bodily harm after a four-day trial at Lincoln Crown Court.
'Pure accident'
Mr Lewis's injury has left him a quadriplegic.
The jury heard Mr Lewis and two other men were looking for scrap metal to steal.
The prosecution alleged that the farmer deliberately drove at Mr Lewis, but Mr Tindale told the jury he could not avoid a collision.
"He was running towards me when he hit the vehicle," he told the court.
"There was nothing malicious about it. I didn't intend to strike Mr Lewis at all. It was a pure accident. I'm still puzzled as to why Mr Lewis didn't step out of the way of the vehicle."