Lincoln college to open in temporary base after delays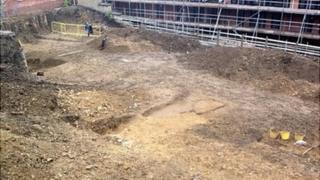 A new vocational training college in Lincoln will open in a temporary home after facing delays.
The University Technical College, which teaches 14 to 19-year-olds engineering and science skills, will have a purpose built base in Greestone Mount.
But the discovery of archaeological remains, including a human skeleton, have delayed its opening until 2015.
Managers said Chad Varah House was being updated to a high standard and initial take up of places was good.
Principal Dr Rona Mackenzie said Greestone Mount's location in the centre of historic Lincoln meant something was always likely to be found.
She said: "We knew Greestone was a big project and a sensitive site, considering local residents and heritage.
"When we realised there was potential for archaeology we wanted to make sure they had time to do that properly.
"So we have looked for a temporary solution but a good quality solution - there is no compromising on students' education."
The college will open in September to about 200 students, increasing to a maximum of 640 from September 2017.
Among significant finds at the site were a medieval sculpture of the Virgin Mary and a human skeleton, probably from the Roman era, buried in the backfill of a well.