Peterborough and Stamford Hospitals NHS Trust pays 'nurse recruitment fee' to staff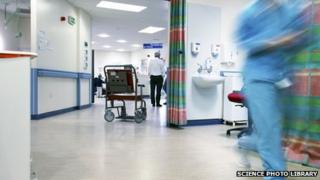 Hospital staff who introduce qualified nurses to their employer are to receive rewards of up to £350.
Peterborough and Stamford Hospitals NHS Trust said it had already recruited abroad but hoped the incentive scheme would encourage local nurses to apply.
The Royal College of Nursing (RCN) criticised the recruitment initiative, calling it a "gimmick".
Howard Catton, head of policy, said more focus was needed on investment and staff development.
He said: "If we look at what will attract staff and nurses to our hospitals, it is good employment conditions, flexible working, and investment in career development."
He added that nurses also wanted to work for an organisation that would listen to them.
'Fly the flag'
However, trust spokeswoman Joanna Cousins said: "Hospitals up and down the country are facing a nurse shortage - and they are looking at a variety of different ways to recruit, including local and national recruitment days.
"This is one of many ways we are going about finding nurses."
The trust has more than 140 nurse vacancies at its hospitals in Peterborough and Stamford.
Under the new scheme, a staff member who recommends a nurse will get a £200 fee and then an additional £150 if the person they recommend stays with the trust for 12 months.
"Our existing staff are being asked to fly the flag for the trust and let their nursing colleagues from around the area know that we have some nursing vacancies available," trust spokesman Ken Hutchinson said.
Hospitals across the East Midlands, including some in Leicester, Nottingham and Lincoln, have recruited nurses in Spain and other foreign countries.