Ryan Smith's family clock up 27,000 miles in therapy visits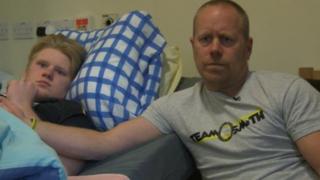 The family of a teenager who went into a coma after being knocked off his bike say the lack of local rehabilitation facilities is "demoralising".
Ryan Smith, 15, from Lincolnshire, has been receiving rehabilitation care at a specialist brain injury unit in Surrey.
His father Mark said in six months they had clocked up 27,000 miles and spent thousands of pounds on fuel for visits.
The Children's Trust centre, which is providing the care, said creating a similar facility would be expensive.
'Sparse facilities'
Ryan was hit by a van in July 2013. He had not been wearing a helmet.
Since December, staff at the centre in Surrey have helped him sit and stand unsupported.
He is due to leave next month but there is nowhere closer to the family home in Chapel St Leonards.
"Lincolnshire is a huge county and facilities are really sparse. We are not in the best county for rehabilitation care," said Mr Smith.
"We want Ryan home but unfortunately we need the right facilities in place before we can properly look after him."
Mr Smith, a paramedic, has been campaigning for a law to force cyclists to wear helmets since the accident.
"It has been emotionally draining enough without the financial implications," he added.
"The credit card bills are building up and we spend every penny on the car.
"It has been a crazy journey but we have drawn some strength from how far Ryan has come and that keeps us motivated."
Ann-Marie Smith, from the Headway charity in Lincolnshire, added: "There's numerous people that have to go out of the county for rehabilitation and it is devastating.
"It has a big impact on their family, emotionally, financially and physically."
Belinda Thistlethwaite, a physiotherapist at the Children's Trust, said a therapy centre like theirs needed 15 professionals per child and being a charity was the only way they could fund it.
A spokeswoman for NHS Lincolnshire East Clinical Commissioning Group said they could not comment on individual cases but "are investigating it urgently to try and find an acceptable solution".