Boston's Banksy plans new street art in Lincolnshire town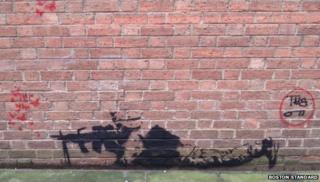 A man who has become known as "Boston's Bansky" has said he was planning more "street art" for the Lincolnshire town.
Earlier in May, a stencilled image of King Kong atop St Botolph's Church appeared on a wall near the landmark.
The graffiti was met with approval by the church's officials and is set to remain at the site.
The artist, who wanted to remain anonymous, said more of his work would start "popping up" in different areas of the town.
'Butterflies and bullets'
He told BBC Radio Lincolnshire that his latest image, in Mitre Lane, of a soldier shooting out butterflies rather than bullets was up to the public to interpret.
"I wanted to take the sting out of the violence and put in butterflies instead of bullets so it doesn't send across such a hard message," he said.
He admitted he liked being anonymous just like his hero, the Bristol street artist Banksy.
He said: "Until I get caught - I probably won't - but if I do that's the only time people will find out who I am."
He denied his work was an act of vandalism, saying that was for other people to judge.
"There's a couple more [images] coming [and] they'll start popping up in different areas," he added.
Michael Bartlett, from St Botolph's Church, also known as the Boston Stump, said the King Kong image was "great" and it had made people smile following damaging floods in December.