Lincoln World War One tank monument: More details revealed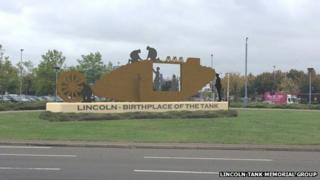 The group hoping to build a life-size tribute to the world's first military tank in the city where it was invented has revealed more about its plans.
Permission was granted for a memorial, depicting a Mark I tank, on the Tritton Road roundabout in Lincoln in December.
The monument is hoped to be completed in time for the 100th anniversary of World War One in the summer.
Richard Pullen from the Lincoln Tank Memorial Group said they were £15,000 short of the £60,000 needed.
'Long overdue'
"The money's coming in, the planning's going well, the design for the memorial is just about finalised," he said.
"Hopefully it will be not long before there's a long overdue memorial to the tank in Lincoln."
The tank will be made from Cor-Ten steel - the same material that the Angel of the North in Gateshead is made out of.
It will be surrounded by two-dimensional figures of factory workers working on the tank.
The Tritton Road roundabout is just yards away from the William Foster and Co factory where tanks, including the first prototype "Little Willie" were made as early as 1915.