Callum Moody-Chapman killed himself after Facebook threats, inquest hears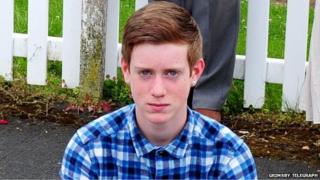 A 17-year-old boy killed himself after receiving violent threats on Facebook in a row over his former girlfriend, an inquest has heard.
Callum Moody-Chapman, from Holton-le-Clay in Lincolnshire, was found dead on a beach in Maryport, Cumbria, in December.
The coroner recorded a verdict of suicide.
The 17-year-old boy who sent him the messages was prosecuted and given a referral order last month.
Callum's parents, Nicola Moody and Kevin Chapman, said in a statement: "Callum was a lovely young man, friendly and loving.
"His death has devastated his family and friends and we continue to try and come to terms with what has happened."
'Beaten and stabbed'
Callum went missing from his aunt's house in Maryport on 15 December.
The Facebook threats, sent in the hours before he died, said he would be beaten and stabbed in a row over his former girlfriend.
Callum phoned his brother and father in the early hours of the morning to say he was sorry and he loved them, the inquest heard.
A dog-walker found his body on the beach near Maryport Golf Club on 17 December, and tests showed the teenager had drowned.
The boy who sent the messages cannot be named because of his age.
He was given an eight-month referral order after pleading guilty to assault and an offence under the Malicious Communications Act.