Commemorative D-Day Eurofighter Typhoon unveiled at RAF Coningsby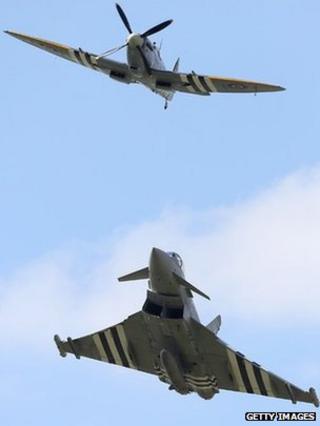 A Eurofighter Typhoon adorned with commemorative D-Day invasion stripes has been unveiled ahead of the 70th anniversary of the landings.
The jet has been painted with black and white markings in tribute to the role of the crews of the Hawker Typhoon during the D-Day operations.
It was revealed during a ceremony at RAF Coningsby, Lincolnshire in a flypast.
The aircraft will fly in air shows across the UK this summer.
D-Day veteran John "Paddy" Byrne, who attended the event, said it was fascinating to see the Eurofighter in action.
The 92-year-old, from Belfast, who flew the Hawker Typhoon on D-Day, said: "It's a much faster aircraft with a jet engine, where we had propellers."
The Hawker Typhoon had a top speed of just over 400mph (643 kmh) and was used to support ground operations during the D-Day landings on 6 June 1944.
The black and white stripes were painted on the fuselages and wings of all RAF and Allied aircraft in preparation for the landings to increase recognition by friendly forces.
Flt Lt Noel Rees, who flew the Eurofighter Typhoon at the event, said: "It was an honour to be able to fly in close formation with the Spitfire and to get both aircraft with D-Day markings together.
"I'm proud to be part of the Royal Air Force and really proud to be able to fly and display this aircraft which commemorates D-Day."