Play School Humpty Dumpty toy bought by Skegness firm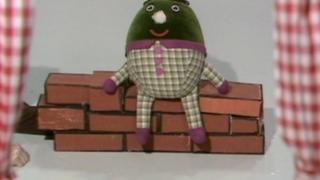 One of the original toys from the children's TV show Play School has been bought by a photography company in Lincolnshire.
Wrates Photography in Skegness bought the 53cm-high Humpty Dumpty toy for £6,250 at an auction in Oxford.
Glyn Bagley, from the firm, said: "We originally set a limit of £3,000 but had to have him, whatever the cost".
He said the company now intends to use it as a mascot and bring a bit of "nostalgia back to people's lives".
Mr Bagley added anyone of a "certain age would want Humpty - even Simon Cowell".
"There is so much doom and gloom in the world, this is about making people smile," he said.
The Humpty Dumpty character, which was one of three originals, first appeared in April 1964.
The other two are thought to be in the BBC vaults, Mr Bagley said.
Mr Bagley said Humpty would be busy working for the firm and be putting in a number of appearances at events across the region.