City of Lincoln Council's Labour group increases majority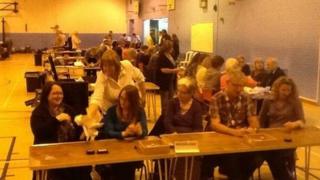 Labour has strengthened its dominance on the City of Lincoln Council taking two seats from the Conservatives.
The party could not lose control of the local authority and won nine of the 11 seats up for grabs.
The Conservatives won two wards and remain the only other party on the council.
UKIP fielded a candidate in every ward for the first time but failed to pick up a single seat, coming third in votes cast overall.
Labour now has 27 seats in total and the Tories have six. The turnout for the election was about 30%.
Close result
Labour leader Ric Metcalfe said voters struggled to see UKIP's relevance to local government.
Two wards had to be recounted on the night because the result was so close.
In Birchwood, Labour's Anthony Gray beat the Conservative's David Denman by just three votes.
Votes for new members of the European Parliament will be counted on Sunday with results expected late in the day.