Biscathorpe oil drilling site plans revised by energy firm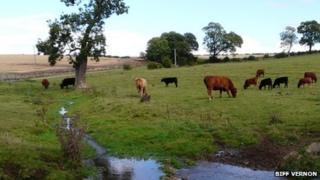 A company hoping to drill for oil in a field by a Lincolnshire village has changed its plans after protests from residents.
Egdon Resources applied for planning permission for an exploratory well at Biscathorpe, near Louth, last year.
However this was withdrawn after residents raised concerns about traffic and the impact on the environment.
A revised application has now been submitted and bosses say the new site will be "less visually intrusive".
'Energy security'
Villagers held a protest in October against the energy firm's plans.
There were fears the proposed site was too close to Viking Way, a local beauty spot, as well as concerns about traffic.
The new site is now 1km away, which bosses say is closer to a wider road and hidden by woodland.
Managing director Mark Abbott said: "Exploring for potential onshore reservoirs of oil like Biscathorpe is important as they will, in a small way, help contribute to the security of national energy supplies.
"The new site has been carefully selected to minimise impact on our neighbours and the environment, while being technically feasible to drill between the furthest location and the sub-surface target area.
"The location is screened by woodland and therefore will be less visually intrusive."
Mr Abbott stressed the latest plans will involve conventional drilling for oil and not the process of hydraulic fracking or shale gas.
'Keep it beautiful'
Martin Scutt, of action group Transition Town Louth, said he remembered oil drilling in the village 25 years ago and described it as "unnecessary".
"It doesn't matter what Egdon say, I don't think it is a good idea to extract oil from the ground locally or globally," he added.
"They [Egdon] are talking about benefits to the local community but I can't see what those will be.
"They have chosen possibly one of the most beautiful areas of outstanding natural beauty and it should be kept beautiful."
Egdon Resources will now submit the new planning application to Lincolnshire County Council.
The firm has told residents that if approved drilling could initially take place for up to eight weeks.