Fire damages Grantham Environcom recycling plant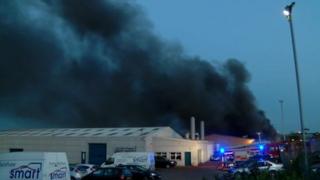 An electrical equipment recycling depot in Lincolnshire has been damaged in a fire.
Ten fire engines tackled the fire at the Environcom recycling plant on the Great North Road in Grantham on Saturday evening.
No-one was injured in the fire, a Lincolnshire Fire and Rescue Service spokesman said.
Eyewitness Tinnino Mole said: "It was the thickest smoke I have ever seen in my life pouring out onto the road."
He added: "It was almost like a thick fog, you could see it a few miles off in the distance - it covered the road for a couple of miles."
Environcom spokesman Sean Feeney said: "Environcom will be operating business as usual next week and I can also reassure local Grantham residents that there is no environmental concern."
He said the fire service had "contained the fire quickly" and there was "limited damage to plant and machinery".
An investigation has started to determine the cause of the fire, which began at about 20:15 BST.
The fire is the second at the recycling plant this year as it was hit by another blaze in February.
Environcom is a UK-based firm that specialises in the recycling of electrical equipment including fridges, ovens, washing machines, toasters and computers.