Lincolnshire Bomber Command memorial spire size reduced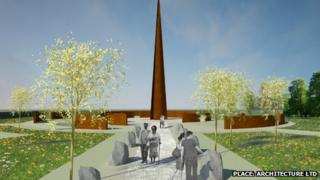 Changes to a planned RAF Bomber Command memorial in Lincolnshire, including a reduction in size, have been confirmed.
The steel spire was to have been 50m (164ft) tall and engraved with the names of the 25,611 airmen who died while based in the county.
But organisers said people had shown they wanted the names to be more accessible and placed at ground level.
This has led to the spire itself being reduced to 31m (102ft) - the wingspan of a Lancaster bomber.
The spire is part of a memorial centre dedicated to those who served in Bomber Command.
It will be located on Canwick Hill, within sight of Lincoln Cathedral, itself once a landmark for crews returning from missions.
Fundraising efforts
Nicky Barr, from Lincolnshire Bomber Command Memorial Trust, explained how their thinking had changed.
"Last year we spent a lot of time talking to people at events and the one resounding thing people said was the legibility of, and ability to connect with, the names," she said.
"The original 50m height was so we could fit 25,611 names on it and taking those away, we can be more creative and still make the impact."
The aircrew lists will now be on walls forming rings around the spire's base.
It is hoped that in time, the names of all 55,573 personnel who died in World War Two can be included.
Ms Barr said fundraising towards the centre's full £5m cost was ongoing but they were confident of the spire and gardens being open by June 2015.