King Kong on Boston Stump graffiti met with approval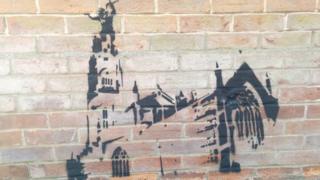 Graffiti showing King Kong atop a well known Lincolnshire church has appeared on a wall close to the landmark.
The stencilled image was spotted at the entrance to Wormgate, in Boston, and shows King Kong on the tower of St Botolph's Church - known locally as Boston Stump.
Michael Bartlett, from the Stump, said: "It appeared earlier this week and is really well done."
He said the graffiti would be left in place for the time being.
It follows the posting on Twitter of mocked-up images showing King Kong and Godzilla by a local photographer.
Mr Bartlett said we tweeted about these and received a good reaction.
"But it now looks like someone has taken it to the next level."
He added: "The image looks great - so I think we'll leave it there for now and see what reaction it gets.
"Everyone is looking at it and smiling. As we've been so focused on the floods in the town, it's a good thing to make people laugh."
He said he was now on the look out for "Godzilla making an appearance".