Plans for new homes in Branston approved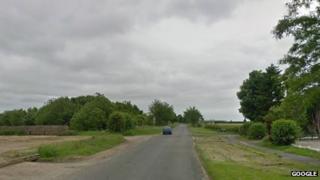 Plans for 200 homes in a Lincolnshire village have been approved, despite concerns over traffic and the impact on local services.
North Kesteven District Council (NKDC) approved plans for the development in Branston, near Lincoln, at a meeting on Tuesday.
Developers Taylor Wimpey said it would enhance the existing community.
But campaign group Save Branston Village said services "would not be able to cope".
'Deflated not defeated'
Sharon Fox, from the group, said she was concerned about having such a large development in the village.
She said: "We're not anti-development [but] we strongly believe housing should be provided in appropriate sustainable locations."
She added the site would join the village's conservation area and would be to the detriment of Branston's identity.
Following the meeting, the group posted on its Twitter page: "The fight isn't over. We are looking into whether there's anything else we can do. Deflated but not yet defeated."
Taylor Wimpey said the development, on land near Mere Road and Sleaford Road, would respect the conservation area and the company would offer an area of land for a new "community facility".
NKDC's planning committee approved the outline planning application, with 14 in favour and eight against.
Those in favour said the development was needed due to a housing shortage in the area, while opponents said it could "spoil the attractiveness" of the village.