Grantham Town FC offers fans choice of anniversary club badge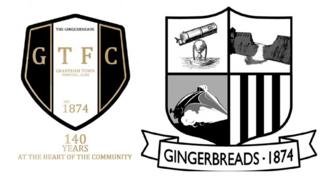 A football club is offering fans the chance to choose a new logo design as part of celebrations to mark its 140 year history.
Grantham Town FC, known as the Gingerbreads, has shortlisted several designs for supporters to choose from.
The new logo will appear on the club's shirts from next season.
Chief executive Barrie Pierpoint said it was important for fans to be involved in choosing a significant part of the club's identity.
He said: "Fans pay their money and support their team, so it's only fair they have a say in how the club is run."
He added that the logos have all been designed by people with a passion for the club.
Some of the designs feature themes connected with the town, while others have a more traditional football feel, he said.
Grantham is famed for its gingerbread and being the birth place of Margaret Thatcher, who does not feature on any of the designs.
It is also notable for having the first female police officer in the UK and for Sir Isaac Newton - who claimed he was inspired to investigate the theory of gravitation by an apple falling from a tree at his childhood home of Woolsthorpe Manor.
One logo features steam locomotive Mallard, which broke the world speed record for steam in 1938 near the town. The record still stands.
Votes can be submitted on the club's website .