Lincolnshire Butterfly Hospice to open after three-year delay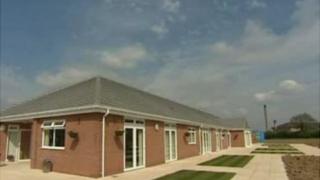 A Lincolnshire hospice which opened in 2011 but has not yet had any patients, will be ready to provide care by the summer, officials have confirmed.
The £1.5m Butterfly Hospice in Boston, which is run by a registered charity, took two years to build following a 12-year community fundraising campaign.
The contract to provide hospice care has been awarded to the Lincolnshire Community Health Services NHS Trust.
The unit will offer palliative care for six inpatients.
Davina Hellon, head of volunteering for the Butterfly Hospice Trust, said: "We are absolutely delighted and this is extremely good news for the community.
Delay criticised
"It has taken a long time to realise this vision of providing inpatient palliative care beds and we have come a long way from the initial meeting in the Stump in 2000."
Lincolnshire East Clinical Commissioning Group faced criticism last year from councillors wanting to know why the hospice was taking so long to open.
At the time, Dr Peter Holmes, clinical leader for the Boston area's CCG, said he had yet to receive any "official notification" the hospice had met Care Quality Commission (CQC) standards.
Organisations providing certain health and social care services must be registered with the CQC.
With the awarding of the contract formal registration with the CQC is expected to form part of the "implementation" work carried out before the unit opens.
The purpose-built hospice sits within four acres (1.6 hectares) of grounds, close to Boston's Pilgrim Hospital.
Sue Cousland, chief nurse and director of operations for LCHS, said: "This service will allow patients to have the choice of having quality, seamless inpatient support closer to home, whether for respite or end of life care."