Hundreds object to Sleaford chicken farm plans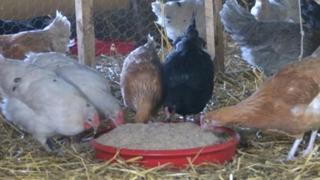 More than 600 people have objected to plans for a large-scale chicken farm on a site in Lincolnshire.
FKB Ltd has submitted plans to erect 16 poultry units, with the capacity to house more than 550,000 birds, on land between Holdingham and Leasingham.
The firm also plans to turn chicken waste into fuel using an on-site anaerobic digester.
Residents are concerned about the smell and increased traffic in the area.
Campaigner Steve Flanagan said: "There is a lot of anecdotal evidence around significant smells from these sites.
"We are not necessarily against chicken farms, we live in the country, but we are against such a large one and an anaerobic digester being placed so close to local facilities."
However, local farmer Chris Godson said: "If the public wants British produced food then we've got to build more of these facilities to produce it."
'Cause and effect'
Speaking on behalf of FKB, Oliver Grundy from JHG planning consultants, said residents' concerns over smells, increased traffic and environmental impact would be considered as part of the planning process.
He added: "To date, there is no evidence to suggest that the poultry farm scheme will have any significant adverse impact upon local air quality, residential amenity or highway safety.
"Members of the local community should rest assured that, if significant adverse environmental effects are identified, the application will not be granted planning permission.
"A growing population and changing consumer trends have resulted in greater demand for British poultry. The Holdingham poultry scheme is very much an example of 'cause and effect'."
The local authority, North Kesteven District Council, said it welcomed further comments.