Man jailed over charity shop indecent images of children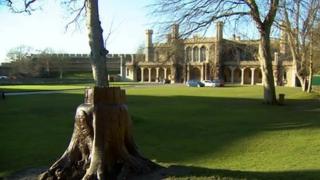 A Gulf War veteran was caught with indecent images of children after his wife took his DVDs to a charity shop.
Mark Rooks, of Louth, Lincolnshire, admitted possessing thousands of sexually explicit pictures of children, including some of the most extreme.
He was jailed for eight months, made to sign the sex offenders register, given a sexual offences prevention order and ordered to forfeit computing equipment.
The judge told Rooks, 53, the images were "horrific".
Rooks' hoard of indecent pictures was found in 2012 when his unsuspecting wife took a collection of his DVDs to a Lincoln charity shop.
Most serious category
A member of the public bought them and, when they were formatting the discs for their own use, discovered adult pornography and some indecent images of children.
The discs were handed to police who found Rooks' passport details on one of them and raided his home.
A total of 13,969 indecent images of children were found.
Under questioning, Rooks, of Eastfield Road, confessed to viewing pictures over the previous 10 years.
At Lincoln Crown Court he admitted seven counts relating to indecent and prohibited images of children.
These included 68 images in the most serious category and 880 in the second most serious.
Alex Rynn, defending, told the court Rooks resigned from his job following his arrest and his marriage has since broken down.
He said Rooks served in the RAF, including a spell with a frontline squadron during the Gulf War.
Sentencing Rooks on Thursday, Judge Sean Morris said: "These images are horrific. Some involved extremely young children."
He added that if it was not for people like Rooks, this type of imagery might not be so available in the first place.