Lincolnshire coast dredging tackles tidal surge flood risk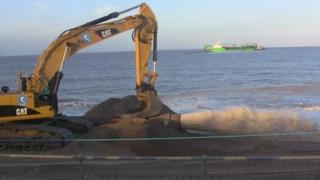 More than 520,000 cubic metres of sand is being pumped onto Lincolnshire's coastline to help protect homes and businesses from flooding.
Sand dunes damaged by December's tidal surge are also being repaired, as part of the Lincshore Project.
The Environment Agency said this year's work would cost £8.4m, an increase of £2m from last year, to pay for the extra repairs.
Sand will be pumped from licensed offshore sites onto several beaches.
Beach closures
Environment Agency engineer Mark Adams, said: "December's tidal surge reminded us that if defences along the beaches which rely on Lincshore failed, tens of thousands of homes and businesses would be at severe risk of flooding.
"The scheme did what it was supposed to do against a surge higher than that experienced in 1953.
"It held up well and protected thousands of properties on the Lincolnshire coast as well as a number of important environmental sites."
Lincshore began in 1994 and covers beaches between Mablethorpe and Skegness, including Trusthorpe, Ingoldmells and Moggs Eye, protecting 30,000 properties and 35,000 hectares of land.
Mr Adams said: "We time our works to minimise disruption to local communities and visitors but unfortunately some inconvenience is unavoidable as we will need to close off sections of beach while we work on them to keep people safe."
The project is designed to increase the level of the beach to reduce the risk of waves reaching the main defences and going over the seawalls.