Lincoln's Lucy Tower car park fully reopened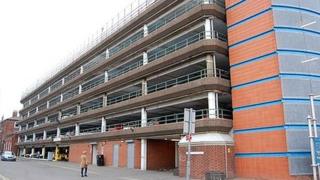 One of Lincoln's main car parks that had major structural problems has fully reopened after more than a year of repairs.
The 458-space Lucy Tower car park, next to Brayford Pool, initially closed in March 2013.
But, when the problems were found, the five month, £1.4m project was expanded, finally costing an estimated £2m.
The city council, which considered full demolition, apologised for the disruption to nearby businesses.
The car park was partially reopened in December but now all restrictions have been lifted and the council said it expects no need for further repairs for at least 10 years.
Adam Wakefield. from the nearby Royal William pub, said they had felt the impact of the closure.
"It is always difficult over the winter and this hasn't helped, we have had to be careful with staff hours to make sure we ticked over.
"People had to park further away and didn't want to walk the extra distance, especially at night."