Lincoln Mencap fraud couple Peter and Alison Childs jailed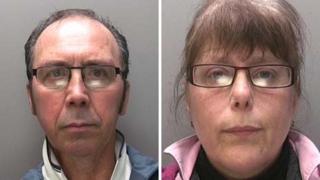 A couple who stole more than £125,000 from the charity they worked for and several disabled people have been jailed for three years each.
Peter and Alison Childs, aged 61 and 48, defrauded members of Lincoln and District Mencap between 2006 and 2011.
Between them, the couple from Nettleham in Lincolnshire faced more than 30 charges of theft, fraud, breaches of trust and false accounting.
They were convicted at Lincoln Crown Court after a six week trial.
The pair worked for the charity, at a branch based in Tentercroft Street in Lincoln, which helped people with learning difficulties to live independently.
They would collect disability living allowance benefits and cold weather payments from members to help pay their utility bills.
Life savings
The prosecution said the Childs took more than was needed and would skim the profit to "enhance their own standard of living".
A police spokeswoman said the couple may have taken more than £125,000 as a result of problems with identifying how much money was given by victims and subsequently taken by the Childs.
The pair also set up a regular standing order from Lincoln Mencap to their own bank account, which paid off credit cards and their rent.
At one point they persuaded two brothers to hand over £13,000 of their life savings, promising to invest it for their future but it was instead spent by the Childs.
The brothers, who lived in a small flat, paid more than £30,000 to the charity over five years to cover water, gas, electricity and telephone bills.
Affair with housekeeper
The court also heard that in 2007, the Childs employed Lithuanian Inga Stasytyte as a housekeeper but put her on Lincoln Mencap's payroll.
Peter Childs had an affair with her, paying her rent with charitable funds and, when she fell pregnant with his child, even claimed maternity pay.
The couple were only caught after Peter Childs suffered a stroke and his wife spent less time in the office to care for him.
Other employees began to study the accounts and their deception was uncovered.
Det Con Helen McGill, from Lincolnshire Police, said: "I am very pleased with the sentences, I think they accurately reflect the seriousness of the offences.
"What Peter and Alison Childs did was systematically exploit vulnerable people who trusted them and gave them, in good faith, money that they thought would be secure for their future needs.
"It has not only had a terrible effect on the victims, some of whom handed over thousands of pounds, but could also have a wider impact on the trust people have in charities."
The Royal Mencap Society, which is a separate organisation to Lincoln Mencap, said: "The severity of the sentence reflects society's disgust at the activities of those who seek to abuse or exploit people."