Boston street drinking ban views sought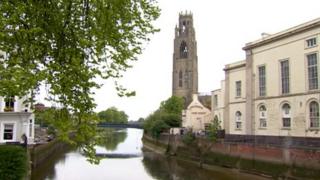 Residents in a Lincolnshire town are being urged to have their say over plans for a ban on street drinking.
A current order in Boston only relates to drinking in connection with anti-social behaviour.
But now the district council is proposing a blanket ban on any alcohol consumption within certain areas of the town and surrounding villages.
Officials said a consultation on the issue had been extended until 21 April to increase participation.
Dale Broughton, who owns a café in the town, described the impact: "It's not just a nuisance, it is actually killing the town - in the night time at least.
"People are afraid, it's like a ghost town.
"I came to work the other day and there was vomit and litter on the pavement and we have to clear that up and it's all caused by drinking."
Councillor Yvonne Gunter said: "The problem has escalated in the past year. Many complaints are about urinating in alleys and parks.
"A total ban would give us the powers to deal with the culprits before it gets to the stage of such behaviour."
Lincolnshire Police has just relaunched its annual crackdown on street drinking in Boston and said anti-social behaviour would be dealt with robustly.