Indecent images arrest councillor Ian Dolby resigns 'over work'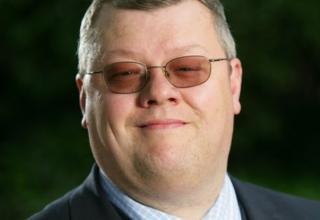 A councillor arrested on suspicion of having indecent images of children has resigned, saying it is because of increasing business at his work.
Ian Dolby was arrested in December but resigned as a town and district councillor in Lincolnshire on 3 April.
Mr Dolby declined to comment on his arrest, after the story was first published in the Sleaford Target newspaper.
He told the BBC he resigned because he did not have time to be a councillor.
"I've resigned from the town council and district council because of increasing business at my work," he said.
"Over four and a half years my client base has increased by over 475%.
"That's the reason why I've had to resign, because I haven't got the time to be at council meetings and operating this business, and it's not fair on the constituents, me not being able to attend meetings."
Mr Dolby, who operates a business that does accounts and bookkeeping, served on Sleaford Town Council and North Kesteven District Council.
He has not been charged with any offences and police released him on bail.
Dick Holmes from Lincolnshire Police said: "We can confirm that on 4 December 2013 we arrested a 49-year-old Sleaford man on suspicion of possessing indecent images of children.
"He was interviewed and released on police bail to return to the police station at a later date when further police inquiries have been carried out."