Tenerife drowning victim Barathi Ravikumar was 'loving mother'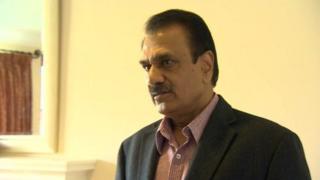 A British doctor who drowned off the coast of Tenerife was a "loving mother" who was ready to help anyone in distress, a friend has said.
Lincoln GP Barathi Ravikumar drowned after reportedly attempting to rescue two children in her family.
Her relative Uma Ramalingam, a consultant obstetrician, also drowned off the Spanish island on Sunday.
Family friend Odadhurai Paramasivan said helping others was typical of Dr Ravikumar.
"She had a nice big smile, ready to help everybody who is in distress, which she has demonstrated in this occasion, [but] unfortunately she lost her life," he said.
"We are all very sorry and we cannot express our sorrow deep enough."
He added that she was "a fabulous person and a loving mother for her children".
A spokeswoman for emergency services on the Canary Islands said the two children, aged 10 and 14, were rescued from the sea by witnesses.
Rita Sobot, chief reporter at the Tenerife News, said the women's relationship to the children had not been clarified.
"It's a terrible tragedy for two children to lose, as we presume, their mothers, or certainly relatives," she said.
"My understanding of the situation is the children were on the rocks, and I don't think they had been swimming in the water, because I think they probably had clothing on, and they were knocked into the water by the waves, and then the mothers jumped in to try and save them."
Dr Ravikumar was married and had two children.
She lived in Reepham, a village in Lincolnshire, but was originally from Chennai, India, where her family and twin sister live.
Friends are arranging for her body to be repatriated to Lincolnshire for a Hindu service and cremation.
They told the BBC that she had only arrived in Tenerife the day before she died, for a holiday with friends.
Dr Ravikumar was a partner at the Heath Surgery in Bracebridge Heath, Lincoln.
Practice manager Dr Mohammed Qureshi said she was "lovely to work with" and "extremely popular, both with patients and with staff".
"She was a lovely lady; a really hard working, dedicated GP," he said.
"She always went out of her way to look after patients and make the patients her first concern."