Kayleigh-Anne Palmer police tweet 'may have risked prejudicing trial'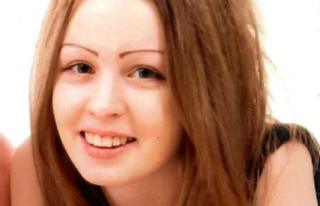 Lincolnshire Police is considering "further action" after a police inspector made a comment on Twitter about a teenage girl's death.
Concerns were expressed that the tweet may have risked prejudicing the trial of Kayleigh-Anne Palmer's boyfriend, who has been charged with attempting to murder the 16-year-old in Cheltenham.
Gloucestershire Police said it was reviewing the charges against her boyfriend Aston Robinson, 18.
The tweet has been deleted.
A spokeswoman for Lincolnshire Police said: "We are aware that a Lincolnshire Police inspector issued a tweet on the topic of domestic abuse and inadvertently made reference to a sub judice case ongoing in another force area.
"As soon as the officer realised that the case was live, the tweet was deleted. As a matter of course, the incident has been referred to our Professional Standards Department."
'Be careful'
Kayleigh-Anne, who was pregnant, was found severely injured at a house in Humber Road by emergency services on Wednesday.
She was taken to Gloucestershire Royal Hospital, and was in an induced coma but died at 11:00 BST on Saturday.
Mr Robinson, of Humber Road, Cheltenham, was charged on Friday and is due in court again on Wednesday.
Further action by Lincolnshire Police may involve a review of its social media practice, or action against the inspector.
A Gloucestershire Police spokesperson said: "As criminal proceedings are ongoing in this case everyone is urged to be careful when commenting on or reporting the story. This includes tweeting or retweeting comments.
"Any remarks that are prejudicial to the outcome of an ongoing court case and could possibly impede the course of justice may constitute the offence of contempt of court."