Timothy Osborn: Death crash drunk driver jailed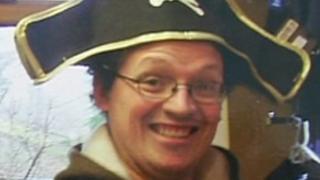 A driver who struck and killed a Lincolnshire cyclist while drunk has been jailed for eight years.
Paul Walken, of Chapel Lane, Folkingham, hit Timothy Osborn, 27, while doing 70mph in a 50 zone of the A151, Spalding, on 14 September 2012.
Lincoln Crown Court heard Walken, who serviced beer pumps, had drunk up to five and a half pints that day.
The 42-year-old admitted causing death by careless driving while unfit to drive through drink.
Mr Osborn's body was found by his mother Lynne in a ditch after she retraced his route when he failed to arrive home.
The court heard Walken failed to stop but later contacted police. He told them he had hit a deer rather than the cyclist.
Judge Stuart Rafferty told Walken: "It does not matter precisely how much you had to drink. All that matters is that it took you far beyond the limit. You should have known that and yet you continued to drive.
"Tim Osborn was entirely without fault. He was there for anyone to see who wanted to see him. You had every opportunity to see him but you did not."
Tom Walkling, for the defence, said: "He is desperately sorry for what he has done. He is absolutely heartbroken.
"The consequences of his actions will weigh on him for the rest of his life. It has affected him very badly."