Research into aggressive behaviour after dog attacks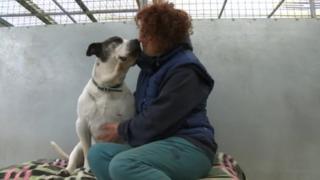 Academics say a DNA study could help reduce the risks posed to people by dangerous dogs.
The University of Lincoln says taking a scientific approach to understanding aggressive behaviour in dogs could help owners manage their pets better.
There have been several high profile dog attacks in England and Wales, including one in Lincoln where two women were injured.
The Dogs Trust welcomed research but warned this kind may "demonize" breeds.
Academics at the university are beginning the DNA study to identify which dogs are more likely to become aggressive without warning.
Experts are collecting saliva swabs from dozens of pets to identify genes that affect behaviour.
Researcher Fernanda Fadel said: "If they have a tendency towards a more impulsive personality and a low aggression threshold, we can direct animals to people that know how to treat them and keep them better."
If successful Ms Fadel said the findings could also be used to allow selective breeding in future.
The Ark Animal Rescue Centre in Louth, Lincolnshire said they had seen more owners giving up their dogs as a result of recent high profile attacks.
Manager Susan Rice said: "People are a little bit frightened of the situation and our waiting list has increased immensely."
A spokeswoman for the Dogs Trust said the way a dog is reared and trained is more likely to cause aggression than the breed, adding that "breed specific legislation" is one of the greatest failures of the Dangerous Dog Act.
"We take an active role in research to improve our understanding of dogs but would worry that this type of research could fuel the demonization of further breeds or give people an unrealistic expectation of how their dog could potentially act in the future," she said.