Paralympian Jade Etherington given freedom of home town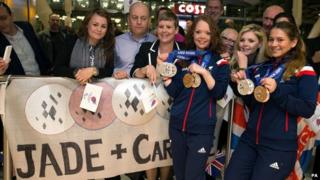 Skier Jade Etherington has become the first person to be awarded the freedom of her home town of Bourne, in Lincolnshire.
Etherington and guide Caroline Powell became the most successful British women in Winter Paralympic history, winning four medals in Sochi.
The visually-impaired skier also became the first British woman to win a Winter Paralympic medal on the snow.
Bourne Town Council voted to honour her at an extraordinary meeting.
The skier will visit schools and attend a public event in Bourne ahead of a civic reception on Monday.
In an interview with BBC Radio Lincolnshire, Etherington said being given the freedom of Bourne was "pretty cool".
"I will have to take full advantage of that," she said.
Etherington, 23, studied at Bishop Grosseteste University, in Lincoln, and will parade through the city in an open-top bus on Monday 4 April.
She is now continuing training to become a teacher, and is looking for a final placement at a school in Lincoln.
"I just have 10 weeks left and then I will be a qualified teacher," she said.
"I will definitely still ski but I think I really need a break right now."
She said her parents and grandparents surprised her by greeting her at the airport when she returned from Sochi.
She said: "Caroline was like, 'Oh, your parents are here' and I was like 'Are they? Are they really?'
"They call me Gingey, because of my hair, and they were shouting that, and I was like, 'It must be them because they are so loud.'"
On her skiing success, she said: "It shows that, you know, I'm from Lincolnshire and there's not many hills around here, but you can go and do what you want."