Skegness Standard office closure 'bad news' for town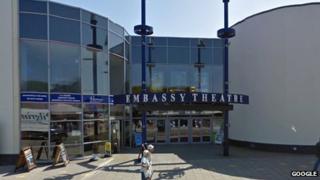 The closure of a local newspaper's town centre office is "bad news" for the community, a councillor said.
Johnston Press, which owns the Skegness Standard, said it was shutting the office so its reporters could spend more time out and about.
East Lindsey District councillor Steve O'Dare said the office's closure would be detrimental to the seaside resort.
The paper's editor Stephen Stray denied the move was about cutting costs.
He said: "We feel it is an improvement for the community because we'll be out in the community a lot more.
"We're very much still there, part of the town, part of the community."
'Bad news'
He added that reporters can work on a story anywhere and a drop-in surgery will be held on Fridays at the Embassy Theatre.
However, Mr O'Dare, who also lives in Skegness, said: "It's bad news for Skegness.
"It's understandable but I think it's going to be detrimental to Skegness... A lot of people like to pop into the office.
"I don't think it's the end of the world but it's a sad reflection of the way local print media is going now."
In recent years publishers have blamed falling advertising revenue for a decline in local newspapers.
Doreen Stephenson, leader of East Lindsey District Council, said: "While it is always a shame when businesses relocate away from our town centres, we understand that in the current economic climate sometimes they have to look at different ways of working.
"We support the Standard, as we would any of our local businesses, and have accepted a request for a reporter to use a desk at the Embassy Theatre one day a week to help them maintain a local presence."