Daniel Walsh murder: Croft brothers found not guilty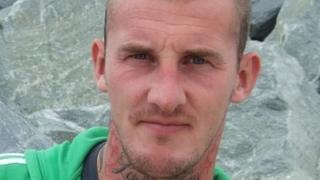 Two brothers accused of murdering a man in front of his partner and young daughter have been found not guilty.
Daniel Walsh, 30, of Trent Road in Grantham, died in hospital following what police described as a "violent incident" in the town in in July.
Ben Croft, 24, and Sam Croft, 21, of Barrowby, Grantham, were cleared by a jury at Lincoln Crown Court.
Ben Croft, a semi-professional boxer, had denied any involvement, while his brother had claimed self-defence.
The prosecution claimed that Mr Walsh was attacked when he stopped to complain about the noise from a house party as he walked home.
'I hit out'
The jury heard Mr Walsh suffered fatal head injuries after being punched and kicked.
However, Sam Croft told the court Mr Walsh had attacked him and that he had acted in self-defence.
He said: "I felt his hand around my throat. I couldn't breathe properly. I hit out. It was just a reaction. I didn't really think. I just did it.
"I remember him looking at me. If he was angry before he was really angry now. I could see he was going to get back up.
"Then I kicked him. From start to finish it was just seconds.
"To me it felt like the right thing to do. I felt it was necessary."
The jury of four men and eight women took less than 30 minutes to return not guilty verdicts, following a 12-day trial.