Tattershall Castle toilet building damaged by rabbits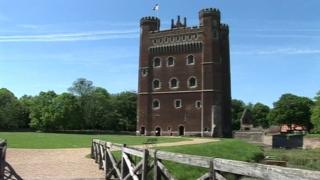 Rabbits burrowing on the site of a 15th Century castle have caused one of the buildings to start slipping into the moat, the National Trust has said.
The 100-year-old toilet building at Tattershall Castle, in Lincolnshire, now needs to be repaired.
The National Trust said the rabbits were not capable of damaging the castle itself but the animals are being killed to prevent them causing more damage.
The rabbits are likely to be gassed, shot, or killed by ferrets.
Paul Robinson, visitor experience manager at the castle, said: "We've got a very active population of rabbits here at Tattershall and they've done a lot of damage, really.
"The toilet is now having considerable lean on it, and is likely to fall into the moat."
Although the toilet building only dates from 1914, it is attached to an original 15th Century brick wall.
Mr Robinson said: "Theoretically we could let it fall over but because it is attached to this really important piece of wall, and it itself is 100 years old, we are going to save it."
There has previously been no control method for the rabbits, and the National Trust said all of them need to be killed to stop them breeding.
The building houses an earth closet - a composting toilet - and is known as the Curzon Loos.
It is named after Lord Curzon of Kedleston, the former Viceroy of India and the man who restored the Taj Mahal, who bought the castle and restored it between 1911 and 1914.
His experience led him to lobby for a new law giving other historic buildings greater protection.
Mr Robinson said the toilet building will be brought back into use when it has been restored.
"Because this area isn't used so much, being right in the corner of the site really, it has been left sort of wild," he said.
"The vegetation has grown a lot here and there is ivy all over the toilet block and that hasn't helped at all."
Natural England's website states it is the legal obligation of every land occupier or owner to control wild rabbits on his or her land.
Under the Pests Act 1954, occupiers may use any legal method, including gassing, trapping, snaring and shooting.