Lincolnshire councillor apologises over lingerie tweet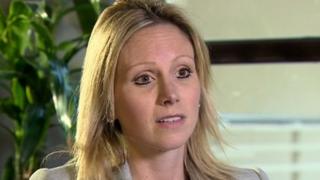 A councillor compared a photo of women in their underwear to the selection shortlist for a local MP.
Conservative Richard Davies, a county councillor in Lincolnshire, has apologised and said putting the image on Twitter - with the caption "actual photo of the hustings?" - was "clumsy".
But he insisted he had a right to criticise Labour's all-female shortlist of candidates in Lincoln.
Lucy Rigby, who won the nomination, said the comment was demeaning.
Mr Davies, a member of the county council's executive and chairman of the Grantham and Stamford Conservative Association, said the image was intended to be satirical.
'Entirely wrong'
He said: "I never meant to cause individual concern or upset and for that I apologise.
"But it opens up a point of real sexism and discrimination and, dare I say it, a condescending attitude to the voters of Lincoln."
Ms Rigby said: "It is sad and entirely wrong that there appear to be, still, some sections of the Conservative Party that have these attitudes towards women and women working in politics.
"It's sad they want to demean women so publicly and Twitter is a very public forum.
"I appreciate there is a debate but pictures of underwear competitions is not the way to have it."