Full judicial review into Lincolnshire's libraries' plan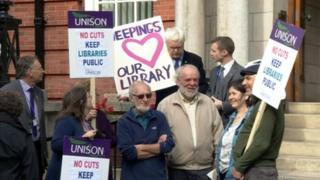 A decision to change Lincolnshire's library service is to be challenged at the High Court in a full judicial review.
Lincolnshire County Council is planning to cut some library staff, hours and mobile library stops. It also wants volunteers to run up to 40 libraries.
In its grounds for review, campaign group Save Lincolnshire Libraries claimed the decision was unlawful.
In a statement, the council said it was confident its decision was lawful.
"We remain convinced that all the necessary steps needed to make a lawful decision were taken, along with extensive consultation and a thorough consideration of the impact on our residents", the statement continued.
'Statutory requirement'
But Paul Heron, the solicitor representing the campaigners, said it was significant the court had given permission to review all the grounds submitted.
"The grounds state the consultation was unlawful, the council has failed to properly consider its equalities duties and it is failing in its statutory requirement to provide an efficient and comprehensive library service.
"Libraries provided by volunteers cannot be a substitute to fully-funded services," he added.
The council believes it can make savings of up to £2m a year.
The hearing is expected to take place in June or July.