Lincoln dog attack: Woman, 22, leaves hospital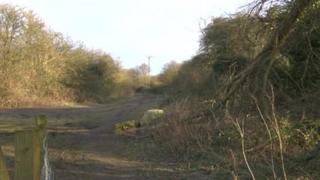 A 22-year-old woman whose skull was exposed in a dog attack in Lincoln has been discharged from hospital.
A police helicopter was used to search for the animal, believed to be an American pit bull, after the woman was hurt on 10 March.
Lincolnshire Police said the dog remains in kennels while their investigations continue. A 33-year-old man is currently on police bail.
The victim had surgery at Lincoln County Hospital to repair scalp damage.
Lincolnshire Police said the woman, who does not want to be identified, suffered "life-changing" injuries including "deep facial gouges on her cheeks" and injuries to her hand.
The dog was searched for in an area near an old quarry off Outer Circle Road on the outskirts of Lincoln.
A man was later arrested and questioned on suspicion of affray and having a dangerous dog out of control in a public place. He has been bailed until 25 March.
Detectives have yet to confirm whether the dog is the banned American pit bull breed.