Mystery Coningsby emu resists police 'arrest'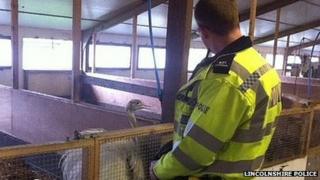 Two police officers were left chasing a mystery emu found in a garden before capturing it in their patrol car.
The bird was spotted in a garden in Coningsby, Lincolnshire, earlier and eventually cornered in a garage.
The two officers managed to grab the bird and it was then given a ride in their police car to a nearby animal park.
Shirley Morrell, owner of Tattershall Farm Park, said the emu had suffered "a bit of a trauma getting arrested".
Initial inquiries have failed to track down where the bird came from.
The owners of the bird, thought to be a rare white emu and relatively young, are being urged to come forward.
PC Tom Harrison, who chased the emu with PC Gary Young, said he had "learnt today that if you are trying to hold a bird like this, grab the legs first".
'Hoovering out the car'
He added: "It wasn't best pleased to see us and was even less happy to go into the car.
"It's not as big as an ostrich but it certainly felt as strong as one.
"We drove it to a nearby park and I had to hold it down, as humanely as possible, all the way.
"I then spent 10 minutes hoovering out the car as I couldn't hand it over to the next shift in that condition."
Ms Morrell said emus like this were "quite unusual so someone will be missing it".
"Unless of course it's a horror and they are glad to see the back of it," she added.
"It's had a bit of a trauma getting arrested so we will give it a chance to calm down before having a closer look."