Lincoln Brayford Wharf barge restaurant badly damaged in fire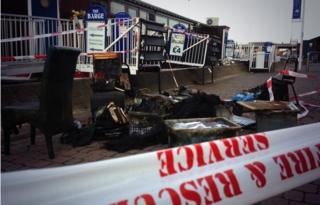 A Lincoln barge restaurant has been badly damaged in a fire.
Six Lincolnshire Fire and Rescue crews tackled the fire at the Barge on the Brayford during the early hours of the morning.
The upper decks of the barge, moored at Brayford Wharf, have been badly damaged and there is smoke damage throughout the restaurant.
The fire service said it was investigating the cause.