Plans rejected for 970 new homes on Louth's Legbourne Road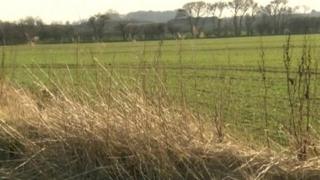 Plans have been rejected for what would have been the largest ever single residential development for a Lincolnshire market town.
East Lindsey District Council rejected plans for 970 homes and a school to be built on the outskirts of Louth.
The 150 acre Legbourne Road site would have also included community facilities and open spaces.
The authority said the scale of the housing scheme was too large for the town to sustain.
'Strength of feeling'
If passed, it would have increased the town's housing stock by about 12%.
Terry Knowles, leader of the Independents on East Lindsey District Council, said: "It's completely out of proportion and there isn't the demand - we have applications in this area that have been stood for years, and the builders are not building.
"It's alright saying there are people on the housing list but it is affordability that drives demand - people have to be able to afford to buy," he said.
Peter Banks, part of the development team, said: "We understand the strength of feeling in Louth.
"It is a marvellous place and we certainly wouldn't want to do anything to spoil it but we believe our development would compliment the town."
The developers have not yet said whether they will appeal against the decision.