Ambulance station closure plans put 'on hold'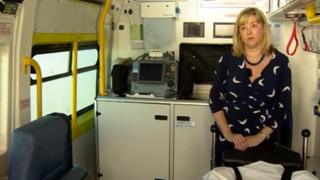 Plans to close ambulance stations across the East Midlands have been put on hold, the service's new chief executive said.
Sue Noyes said East Midlands Ambulance Service (EMAS) needed to first focus on improving response times.
Last summer, the service announced plans to replace 18 stations across the region with three main hubs and a number of smaller stations.
Ms Noyes said other priorities included improving performance and staff morale.
'Quite some improvement'
EMAS has failed to meet its response times for the past three years and last year it was fined £3.5m.
Out of 10 ambulance trusts in England it was one of only two to miss the target of getting an ambulance to 95% of all life threatening emergencies within 19 minutes.
Ms Noyes said she had seen "quite some improvement" already since she stepped into the role in October.
"I do share the concerns of people and I want to ensure them that every focus is going into improving response times," she added.
"I came in with a very clear remit - to improve performance and improve relationships, internally and externally.
"We will be returning to look at ambulance station plans in the next few months but at the moment we have no plans to change anything to our estate."