Lincoln dog attack: Suspect released on bail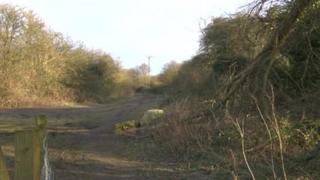 A man arrested after a dog attack in Lincoln has been released on bail.
The 33-year-old was questioned on suspicion of affray and having a dangerous dog out of control in a public place.
A woman, 22, suffered facial injuries in the attack on Sunday and is in stable condition in Lincoln County Hospital after undergoing surgery.
The arrested man has been bailed until 25 March.
Scalp damaged
The injured woman, who had surgery to repair skin damage to her scalp and hands, will be questioned about the attack later, police said.
The dog, believed to be an American pit bull terrier, was seized and taken to kennels where tests are taking place to determine its breed.
A police helicopter was used to search for the dog in an area near an old quarry off Outer Circle Road on the outskirts of the city.
A 38-year-woman who was injured in second dog attack at Keats Close, Lincoln has been released from hospital after treatment.
She was attacked on Monday afternoon at the house where the man was arrested earlier.
Police said it appeared the 38-year-old woman had been intervening in a fight between two dogs and she sustained dog bites and a suspected broken arm.
The dog that attacked her was destroyed with the permission of the owner.