Lincoln dog attack: Second woman bitten and injured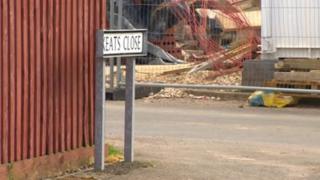 A woman has been attacked by a dog at the same house at which a man was arrested over a dog attack that left a woman with "life-changing" injuries.
The first victim, aged 22, was attacked by a dog in or around a quarry in Lincoln on Sunday.
The dog's owner, a 33-year-old man, was arrested on Monday while visiting a house in Keats Close and his American pit bull-type dog was seized.
The second woman was attacked at about 13:45 GMT, after police left the house.
Police said it appeared the 38-year-old woman had been intervening in a fight between two dogs and she sustained dog bites and a suspected broken arm.
The BBC understands she lived at the house and owned the dog that attacked her.
Police said the dog appeared to be a Staffordshire bull terrier and its owner gave permission for it to be destroyed.
Two other dogs in the vicinity were taken into the care of the Lincoln City Council dog warden "for their own welfare pending the identification of their owners", police said.
Skin 'ripped back'
Both of the women were taken to Lincoln County Hospital.
The first woman was admitted with "deep facial gouges on her cheeks", the skin on her head "ripped back exposing her skull", and injuries to her hand.
She had surgery and was recovering at the hospital.
Residents in part of Lincoln were warned to stay in their homes while armed police and a helicopter searched for the dog after the attack on Sunday.
Insp Michelle McIlroy said magistrates would be likely to approve a destruction order for it.
Its owner was arrested on suspicion of having a dangerous dog out of control in a public place.
Police said he would also be questioned on suspicion of affray after an incident involving police officers who were attempting to seize the dog.