Lincoln quarry dog attack: Owner arrested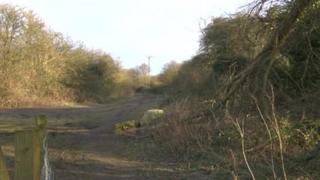 The owner of a dog that attacked a woman in Lincoln and left her with "devastating injuries" has been arrested.
Armed police and a helicopter were deployed to search for the dog after the attack on Sunday.
Residents in part of Lincoln were warned to stay in their homes during the night-time search for the animal.
The dog, believed to be an American pit bull, was found in the early hours. It is now in kennels.
The 22-year-old woman was admitted to hospital at about 22:30 GMT.
A 33-year-old man, the dog's owner, has been arrested on suspicion of having a dangerous dog out of control in a public place and will be questioned later.
Insp Michelle McIlroy said police were alerted by paramedics to a "savage attack" by a dog.
'Life-changing' injuries
They searched an area near an old quarry off Outer Circle Road on the outskirts of the city.
The area where the dog was thought to be was "contained" by police.
Officers on the ground worked with the force helicopter in the hunt.
The injured woman was taken to Lincoln County Hospital and will undergo surgery later.
"She has suffered quite devastating injuries. They are not described as life-threatening, but certainly life-changing," said Insp McIlroy.
Tests are being carried out on the dog to confirm the breed, police said.