Gainsborough Central: Hopes for 'worst' railway station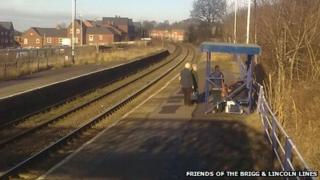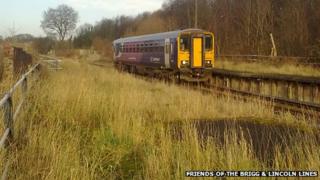 Plans have been drawn up by campaigners to improve a Lincolnshire railway station dubbed the worst in the UK.
Gainsborough Central, is only open on a Saturday, when there are three services each way to Sheffield and Cleethorpes.
Friends of Brigg and Lincoln Lines said repairs need to be carried out, and want a six-day-a-week service to bring more people to the town.
Paul Johnson, from the group, said the station had been in decline for 40-50 years.
'War-torn Beirut'
An article in The Times newspaper, by a man who had travelled to 2,548 stops across the UK, said Gainsborough Central was the worst on the British rail network.
Paul Johnson, from the Friends of Brigg and Lincoln Lines, said: "I'm afraid it is [the worst station], it also got a mention in a leading rail magazine as something you would find in war-torn Beirut."
Mr Johnson, who has published the Gainsborough Rail Action Plan, said despite the town having another station at Lea Road, it would benefit economically if Gainsborough Central were improved.
He said: "If you walk out of Central station you've got the Marshall's Yard shopping complex and the town centre and that's why we're targeting it."
Samantha Dodd, from the Gainsborough Town Centre Partnership, said the town has got "great things" to offer visitors and needed more services to run from the station.