Lincolnshire's vandalised speed cameras cost more than £1m to fix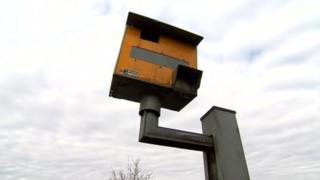 More than £1m has been spent on repairing vandalised speed cameras in Lincolnshire in the last four years.
The Lincolnshire Road Safety Partnership says the region is one of the country's worst and described the issue as a "serious problem".
It said four cameras in the region had already been targeted this year, costing more than £100,000 to repair.
In the latest attack, a camera on the A57, Newton on Trent, was damaged and a man has been charged
The 46-year-old from Worksop will appear before Lincoln Magistrates' Court at the end of March.
A further two people are being investigated for separate incidents relating to camera damage.
'Difficult to protect'
John Siddle, from the road safety partnership, which operates 51 fixed speed cameras across the county, said replacing them was costly.
"Most of our cameras are in rural locations so this makes them very difficult to protect," he added.
"This is about somebody trying to avoid a conviction that they could possibly have against their licence.
"To have these cameras out of action puts the drivers of Lincolnshire at risk and that includes the person who damaged it as well."
In 2012 Ashley Rowland, 28, and Anthony Luty, 23, both from Doncaster, were jailed for damaging a camera in Hemswell Cliff, near Gainsborough, Lincolnshire.
Rowland had been paid to set fire to the camera after his friend Luty had been caught speeding.