Grantham Hospital pays seven-figure sum to leg amputee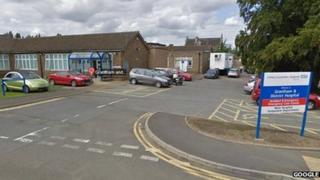 A mother-of-three who lost her leg after a series of errors while she was in hospital for a routine operation has secured a seven-figure settlement.
Lorraine Brewin, 46, went into Grantham Hospital in January 2009 for a varicose veins procedure.
After her operation, blood built up in her leg and she was sent to Lincoln County Hospital for further surgery.
But due to delays and a lack of physiotherapy, Mrs Brewin had to have her left leg amputated.
'Nightmares'
In a statement, the United Lincolnshire Hospitals Trust said it recognised "there were aspects of her care" which were substandard.
Mrs Brewin, a former factory worker from Grantham, said: "The last few years have been dreadfully painful and the most upsetting of my life.
"I still have nightmares about the whole ordeal and it still makes me angry that the entire situation could have been avoided had I been given the correct standard of care I deserve."
Last year Mrs Brewin received an interim payment from the hospital trust to help her buy an adapted bungalow as she now uses a wheelchair.
The final settlement will help pay for rehabilitation, prosthetics and future adaptations for her home.
Zoe Brodrick, from Mrs Brewin's solicitors Irwin Mitchell, said: "What was supposed to be a simple operation has left Lorraine relying on the use of a wheelchair and has significantly changed her life forever.
"This situation was highly avoidable and the mistakes in her care have now been admitted by the trust, allowing us to work on putting together the special settlement package to help support her rehabilitation and recovery."