Burglary suspect hiding in petrol station cupboard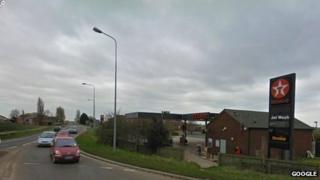 A man has been arrested on suspicion of attempted burglary after being found hiding in a cupboard at a petrol station in Lincolnshire.
The 37-year-old Lancashire man was detained by police at the Bicker Bar roundabout service station on the A17 at about 04:00 GMT.
He was discovered after an alert was raised by the alarm-monitoring company.
Police believe he was trying to get money from the cash machine and are carrying out forensic examinations.
Officers have appealed for anyone with information to get in touch.