Boston floods: Defences rebuilt to tackle high tides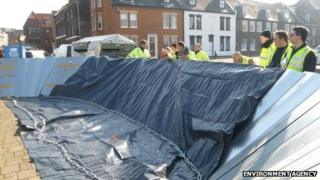 Extra flood defences have been erected in a Lincolnshire town against a newly built wall before the expected high tides this weekend.
The old section of the wall on the River Witham, at Whitehorse Lane, in Boston, damaged by a tidal surge in December was demolished and rebuilt.
It was highlighted as an urgent priority after the town was flooded.
The Environment Agency said the temporary flood defences have been put back "only as a precautionary measure".
'Low flood warning'
Mark Robinson, from the agency, said the high tides at the weekend were not a cause for concern.
"We're putting the defences back only as a precautionary measure to be absolutely sure we are not going to see any issues with that particular wall," he said.
"High tides happen twice a month, normally they come and go without concern but it's the low pressure that we need to careful of which can artificially lift the sea.
"We will probably be issuing the low level of flood warning, the alert, just to keep people aware of what's happening."
Mr Robinson added the agency would be monitoring the weather over the weekend but "we don't expect to see any flooding".
A total of 569 properties were flooded in 52 streets in Boston after the River Haven burst its banks on 5 December last year.